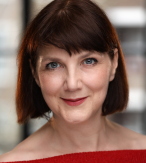 Charlotte Moore
AVAILABLE TO RECORD REMOTELY
Charlotte is a versatile actress with lots of theatre experience. She has voiced many fabulous ads, corporates, video game characters and animations. This year she has mostly been doing short films, funny ones and a new most controversial play...
TV:
Midsomer Murders | Flight of The Swan (Short Film)
Film:
Russian Whispers | Pre-Occupation | Bananafish |The Audience | Alfie | Welcome II The Terrordome
Theatre:
Bitter Wheat – Garrick Theatre Read Not Dead – Shakespeare's Globe | Legacy (Canal Café | Jumpy Theatr Clwyd | The Audience | Boeing!Boeing! | Blackbird | Troilus & Cressida - RSC.