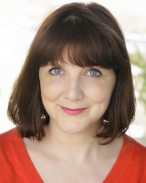 Charlotte Moore
Charlotte Moore is a versatile actress with a huge range of characters & accents. Silky & seductive or wild and wacky, that's our Charlotte!
Having started her professional career at 16 doing stand-up comedy and session singing, the Drama Centre London then steered her along the path of classical theatre. Since leaving she has appeared in many successful fringe and West End productions as well as Peter Stein's production of 'Troilus & Cressida' at the RSC in Howard Barker's 'Found In the Ground' at the Riverside Studios. Other theatre credits include: 'The Audience' at The Gielgud Theatre, 'Rain Man', 'Carousel', 'The Sleepers Den', 'Knickerbocker Glories', 'The Box' and 'Farewell Transmission by Pamela Carter'.
She continues to sing and has contributed vocals to sessions for Dave Stewart of Eurythmics fame, the Louis Vause Orchestra for British Paramount Pictures and currently sings with journalist/playwright/poet Alan Franks.