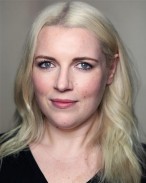 Kate Bell
Kate Bell was a child star, like Bonnie Langford, and has been acting professionally since the age of twelve. She studied at the most notorious school in fiction... spending seven years playing the part of Kelly Bradshaw on BBC's 'Grange Hill'.
Kate played a dimwit with a heart of gold as 'Dawn Marie' in BBC Radio 2 sitcom 'Jason's Mum' written by Jenny Eclair, and also starring Kevin Bishop and Linda Robson.
Kate enjoys honing her comedy improv craft on a regular basis performing as founder-member of Improv group All Made Up. She also dabbles in a bit of sketch writing and character stand-up comedy performing too.
See her in action here http://www.katebellactor.com/
TV:
Phoneshop | Grange Hill | The Bill