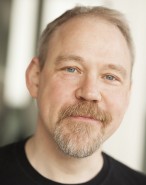 Robert Wolstenholme
A warm, reassuring and friendly voice with a gentle Lancashire accent.
After a misspent youth in various Lancashire mill towns, Robert has acted on stage, radio and TV, all while pursuing his passion - directing plays for the London and Edinburgh fringes, off West End and on small scale tours.
As a voice, he's Pappa Bee in ITV1's kids' cartoon 'The Hive,' a somewhat dim-witted ogre in the video game 'Fable Legends' and a friendly dog in need of a home for Dogs Trust. He's also been the campaign voice of BBC Six Nations rugby and the Premier League.
Robert is also an audiobook reader with several credits for the RNIB.