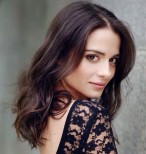 Stephanie Leonidas
AVAILABLE TO RECORD REMOTELY
A young, clean, fresh and friendly voice.
British actress Stephanie Leonidas is known for her many television appearances, with roles in: 'Defiance', 'The Bible', 'Whitechapel', 'Eternal Law' and the BBC's 'Dracula', as well as the award-winning ITV film for television 'Wall of Silence'. Stephanie made her film debut in Sally Potter's 'Yes', followed by Ate de Jongh's 'Fogbound'. Other film credits include the lead role of Helena in David McKean's 'Mirrormask', Luis Llosa's feature film 'Feast of the Goat', Ben Sombogaart's 'Crusade in Jeans: A March through Time', Andrew Douglas' 'U Want Me To Kill Him' and 'Luna' by David McKean.
Stephanie has also appeared on stage in the lead role of Dani in Marianne Elliott's 'The Sugar Syndrome' at the Royal Court, which received rave reviews, and also portrayed Adela in Gadi Roll's 'House of Bernarda Alba'.